January 24, 2018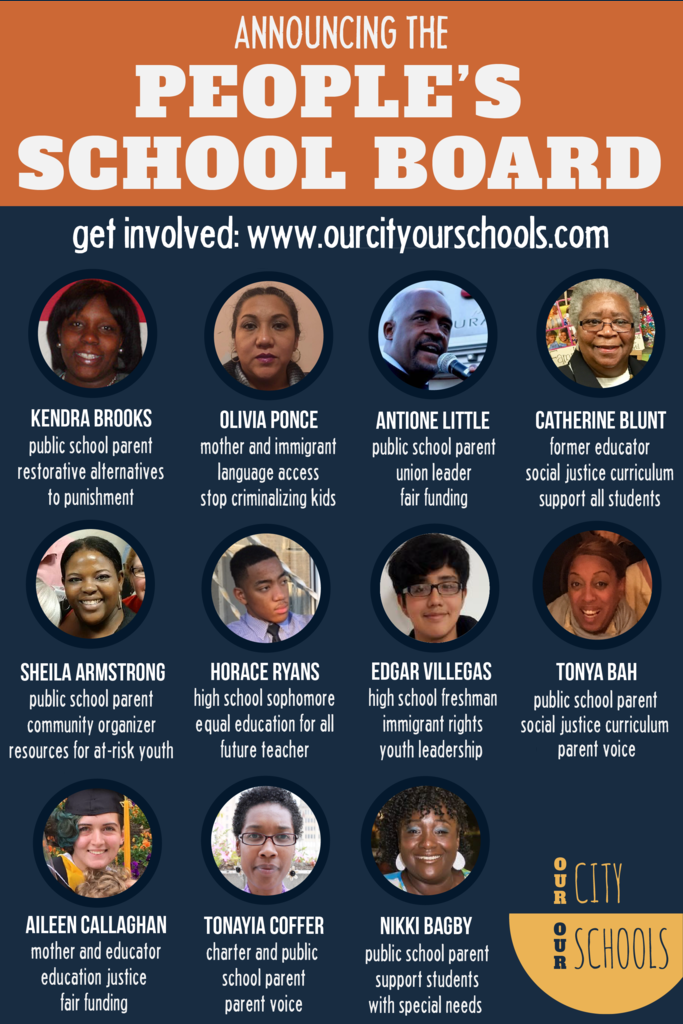 In anticipation of the naming of new Philadelphia Board of Education members, the Our City Our Schools coalition is putting forward a slate of 11 people to illustrate what a true People's School Board looks like. The slate is made up of true stakeholders of the Philadelphia schools: a majority of slate members are parents with children in both Philadelphia charters and public schools, two are current students, one is a retired educator and principal and one is an immigrant mother. The slate spans the geography of the city and is made up of leaders with a history of organizing for racial and economic justice in our schools.
"We are parents, students and educators who have shared vision for what our schools can look like," said Kendra Brooks, a leader with Parents United and member of the People's School Board slate. "As the leaders that pushed for the end of the state control of our schools, we're ready to undo the damage of the School Reform Commission and fight for true racial and economic justice in our schools."
Mayor Kenney's office has announced that in the next few weeks the nominating committee for school board will be announced. This nominating committee will then present 27 potential names to the Mayor and to City Council which will then be picked from for the new school board. The new school board, as laid out in the city charter, consists of 9 adult members, 1 student member and 1 student alternate.
"We are putting forward a People's School Board slate because we want to publicly show what kind of school board we believe our city needs," said Antione Little, member of the People's School Board slate and chair of Our City Our Schools. "We need a board that's made up of the true stakeholders of our schools — parents, educators and students, a board with no more conflicts of interest and a board ready to fight for fair funding for our schools. We believe all people and all students — regardless of their voter registration status — should be able to vote on the next board."
The People's School Board 11-person slate includes (full biographies available here):
Antione Little, chair of Our City Our Schools and steering committee member of 215 People's Alliance

Kendra Brooks, Parents United for Public Education

Olivia Ponce, parent and leader with Juntos

Catherine Blunt, former educator and principal

Edgar Villegas, high school freshman

Horace Ryans, high school sophomore

Sheila Armstrong, parent and organizer with POWER

Tonya Bah, parent and leader with Neighborhood Networks

Aileen Callaghan, mother and leader with Reclaim Philadelphia

Tonayia Coffer, parent and leader with Parents United for Public Education

Nikki Bagby, parent and community leader