October 15, 2016
FOR IMMEDIATE RELEASE: October 15, 2016
Our City Our Schools Campaign Statement on Governor Wolf's Pick for SRC
Today it was announced that Governor Wolf has asked Estelle Richman to join the School Reform Commission. Richman would take the seat of Feather Houstoun who recently resigned. In response, the Our City Our Schools campaign released the following statement:
"Estelle Richman has a long history of public service and is certainly a strong choice from Governor Wolf. But there are clear questions that need to be asked of all appointments put forth for the School Reform Commission. Does former secretary Richman support local control of Philadelphia's schools? Will former secretary Richman commit to vote to abolish the School Reform Commission should she become a commissioner? These are the questions that our Governor and our Mayor should be asking as they choose commissioners. In May 2015, Philadelphia residents made their opinions very clear when over 75% of voters voiced no confidence in the SRC. Will Governor Wolf and Mayor Kenney listen to their constituents?
Our City Our Schools is a campaign led by parents, teachers, students and community, faith and union leaders, calling for the abolition of the School Reform Commission and for local control of Philly's schools. Endorsing organizations include: Taxi Workers Alliance, Philadelphia NAACP, 215 People's Alliance, Philly Student Union, UNITE HERE Local 634, Parents United for Public Education, Reclaim Philly, AFT Local 2026, Teacher Action Group, Caucus of Working Educators, APPS, Neighborhood Networks and Media Mobilizing Project.
-###-
October 13, 2016
FOR IMMEDIATE RELEASE: October 13, 2016
City Council Responds to Public Calls for Abolishing the School Reform Commission
As Community Rallies, City Council Members and Mayor Face Off Around Local Control of the Schools
PHILADELPHIA — Recognizing a growing community-labor alliance around abolishing the School Reform Commission,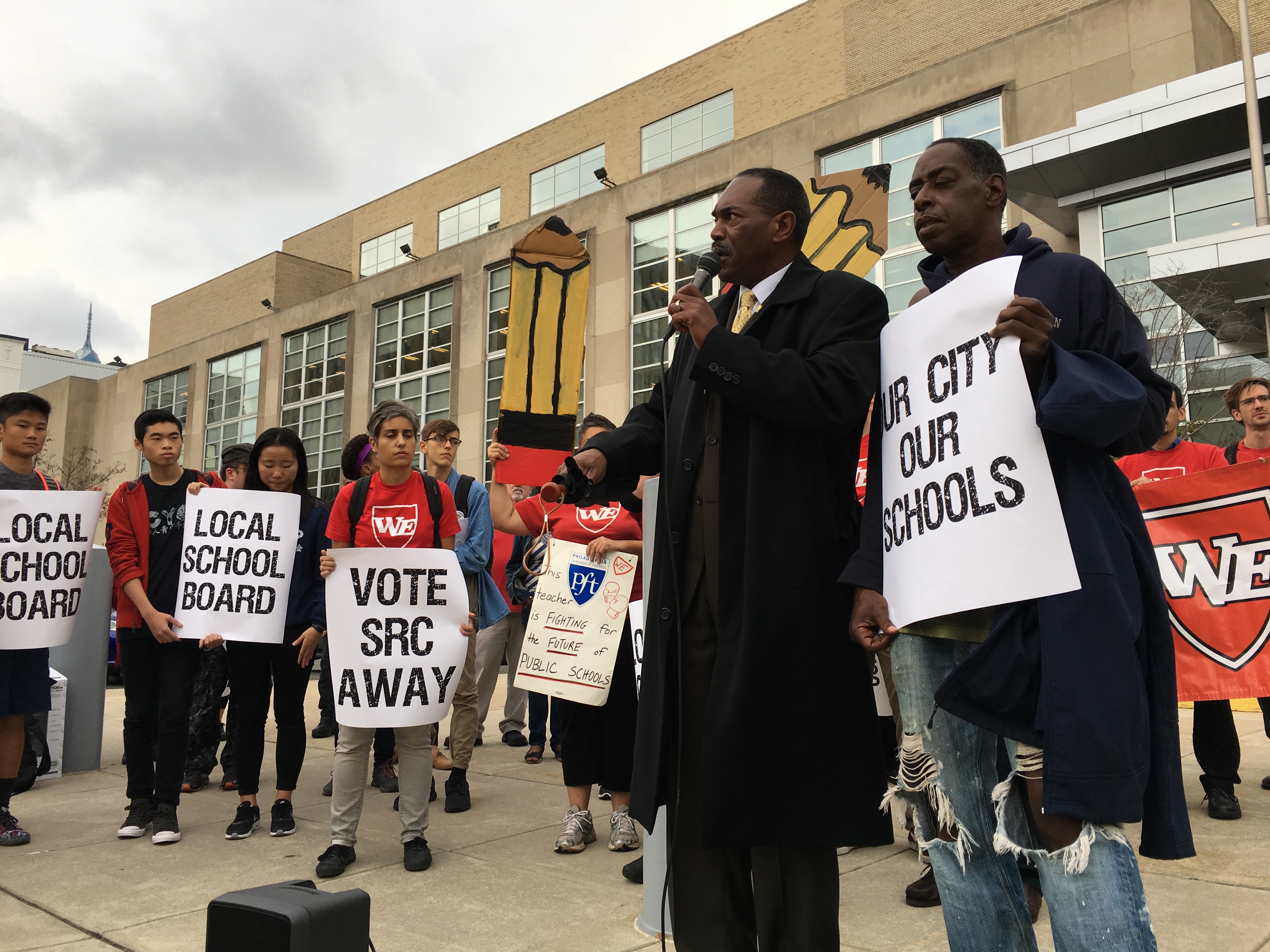 Councilmembers Darrell Clarke, Jannie Blackwell, Helen Gym and Blondell Reynolds-Brown released an editorial calling for abolishment of the SRC in favor of local control. Mayor Kenney released a statement that said that local control was "not practical" at this time.
"We are glad to see leadership from City Council on this matter. For as long as there had been the School Reform Commission, there have been teachers, parents, students and community leaders thinking about what a better system for our schools looks like. That is a conversation we are excited to have — but to have it, we must first abolish the SRC once and for all. This is the moment," said Antione Little, a member of the Steering Committee of 215 People's Alliance said on Thursday at the launch of the Our City Our Schools campaign. Read More
October 5, 2016
FOR IMMEDIATE RELEASE: October 5, 2016
Statements from the Our City Our Schools Coalition in Response to Two School Reform Commissioner Resignations
Today, Marjorie Neff and Feather Houstoun announced their resignations as members of the 5-person School Reform Commission. As a result, only three members will remain on the School Reform Commission. It is unclear if the SRC now has quorum in order to make decisions on the governance of the Philadelphia schools.
In response, members of the Our City Our Schools coalition call on Mayor Kenney and Governor Wolf to appoint members to the School Reform Commission ready to vote on day one to abolish the School Reform Commission — and return the Philadelphia public schools to local control. Read More